Restoring Your Teeth from the Root Up
Endodontics is the specialized branch of dentistry that deals exclusively with the morphology, physiology, and pathology of the dental pulp and the tissues surrounding the root of the tooth. At Associated Endodontists, P.C., we understand that endodontics may seem daunting or intimidating, but endodontic treatments are actually some of the most commonly performed in dentistry, and have been proven safe and effective. Our experienced endodontists and our dedicated staff will help you through the entire process, from your initial visit, all the way through recovery. Upon your arrival at Associated Endodontists, P.C., our warm and inviting office setting will allow you to relax prior, during, and after any endodontic treatment.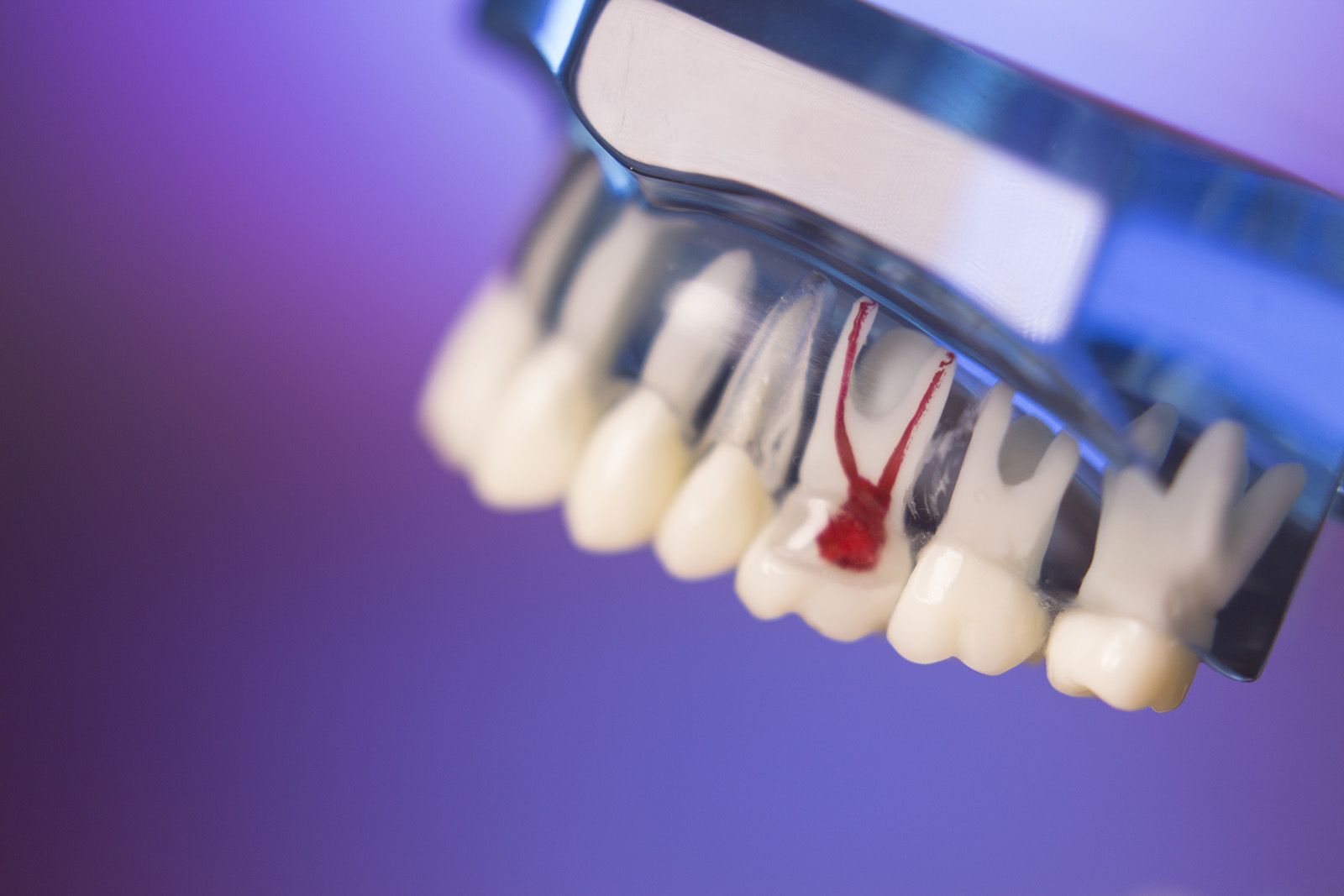 With any root canal treatment, preserving and restoring the health of the tooth and its root is the main objective. At Associated Endodontists, P.C., we specialize in root canal treatment, and our Philadelphia team has a variety of techniques and tools to treat even the most complex cases.
We Get to the Root of the Problem
Our endodontic specialists have years of training and experience repairing damaged and infected teeth and gums. If infected tissue is not removed or is left untreated, the infection can continue to cause damage and pain. At our practice pain is not an option, so we do our best to ensure your root canal treatment is done properly the first time. While the notion of a root canal may conjure up images of discomfort, the reality of the treatment is quite different; once the pressure is relieved in the root of your tooth, the pain will diminish, and your tooth will be restored to its previous condition. Following root canal treatment at our Philadelphia practice, the prognosis for your tooth should be no different than the rest of your mouth, provided you maintain proper oral hygiene.
Proper diagnosis is the first step in root canal treatment, and is essential to ensuring good oral health for our Philadelphia patients. As with any disease or illness, if left untreated for too long, the damage may be irreversible. An infected tooth may even endanger other parts of the body, creating systemic illnesses, if left untreated. Our team understands the intricacies of diagnosing and treating endodontic disease, and we strive to deliver the best possibility of success for our patients. For individuals suffering from endodontic disease, root canal treatment at our Philadelphia area practice holds the best possibility of success today and the prognosis of a brighter, healthier smile tomorrow.
We Can Provide Relief From Tooth Pain
There is no reason to suffer with agonizing tooth pain when there are experts and treatments readily available. At Associated Endodontists, P.C., we proudly offer root canal treatment to all those in pain. If you are suffering from tooth pain, or believe you may be in need of root canal treatment, contact Associated Endodontists, P.C. in Philadelphia today to schedule your treatment visit or consultation.
Dr. Eric Hodges and his associates are dedicated to providing you the best endodontic care available. If you are experiencing tooth ache or tooth pain, you may be in need of endodontic treatment or more simply, a root canal. We know how painful a tooth ache can be and in most cases we will take care of your dental needs on the same day as your call. Our practice is available for emergency dental care as well as a referral directly from your doctor. We will do our best to take care of you within 24 hours of your call. If referred by your dentist, we will take care of your endodontic treatment and refer you back to your general dentist to place a permanent restoration, such as a crown, on that tooth. If you do not have a general dentist, Associated Endodontists, P.C. can refer you to one of our excellent referring dentists in your area.
Endodontic Treatments
At Associated Endodontists, P.C., we specialize in endodontics and proudly offer a range of treatments at our Philadelphia practice to meet our patients' needs, including:
Root Canal Therapy - one of the most common dental procedures. Repairs and removes inflamed or infected pulp.
Endodontic Retreatment - performed when a tooth that has had root canal treatment does not heal, pain persists, or develops disease in the future.
Endodontic Surgery - performed to save the tooth if the non-surgical approach did not heal, pain persists, or develops disease in the future.
The goal of our endodontic treatment is success, with healthy prognoses for the future. Come in and see what we can do for you.
Candidates for Endodontics
It may be time to consider endodontics at our Philadelphia practice if you suffer from one or more of the following symptoms:
Pain when biting
Toothaches that awaken you from sleep
Radiating pain from a single area of your mouth
A pimple on your gum that may excrete pus
Sensitivity to tooth pressure or tapping
Lingering toothache pain when drinking hot or cold liquids or food
Learn More about Endodontics in Philadelphia
While a perfect smile and cosmetic appeal may be what most dental patients are looking for these days, you cannot begin an aesthetic overhaul if the foundation of the teeth is weak and decaying. Endodontics gets to the root of tooth pain, treating the pulp of the tooth and decontaminating the surrounding tissue. Though many people opt to put off or completely avoid endodontic treatment because of fear or anxiety, the pain experienced by avoiding the endodontist will be more severe than any possible endodontic treatment. If you truly want to avoid tooth pain, we invite you to visit Associated Endodontists, P.C. and witness the benefits of our endodontic treatments. Contact Associated Endodontists, P.C. to schedule an endodontics evaluation at our Philadelphia practice.